Frank Latoine (フランク) is a French piano student studying in Paris.
Frank Latoine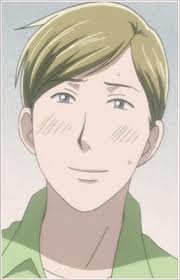 Home Town
France ; Paris (studies)
Appearance
Edit
He has olive green hair and somewhat gray eyes. He has black thin eyebrows and a pale skin tone.
Personality
Edit
He has a kind and caring personality.
He lives in the same apartment complex as Chiaki and Nodame. He befriended Nodame when they were taking the entrance exam to study in Paris. He is a fan of Japanese anime, his special favorites are the anime Shakugan no Shana and Nodame's favorite series, the fictional Puri Gorota. He had a slight crush on Nodame, but fell out of it once he saw her obsession with anime (which he said was too much for even him to handle, as she could recite all the lines of Puri Gorota from heart) and Chiaki. Frank previously studied at the same school as Yunlong, but after seeing Professor Auclair, chose to transfer to the Conservatory.
Ironically, the author intended to use a real anime, Shakugan no Shana as Frank's favorite anime.