Hajime Tanioka (谷岡 肇 Tanioka Hajime) is a piano teacher at Momogaoka, said to specialize in "drop-out" students.
Hajime Tanioka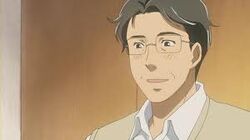 English
Hajime Tanioka (only)
Friends
Teachers and Students at Momogaoka
Appearance
Edit
He has black hair and eyes. He wears transparent glasses and also seems to have thick, black eyebrows. He also has a pale skin tone.
Personality
Edit
He is a piano teacher who is said to specialize on "drop-out" students, probably due to his kindness and words for motivation. He simply motivates his students by letting them do what they like to do for class (except for bad acts, of course) like letting Nodame finish her project, "Little Miss Frizzy" for a children's play.
Sorry, but we are still ongoing with plot summaries. If you want to help, please do visit here.