Kouzo Etoh (江藤 耕造 Etō Kōzō) is a piano teacher at Momogaoka.
Kouzo Etoh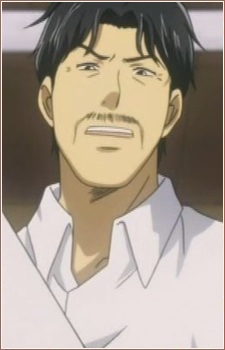 Anime Role
Foil (either Protagonist or Antagonist}
English
Kouzo Etoh (only)
Spouse/Partner
Kaori Kouzo (wife)
Appearance
Edit
He has a black hair with the same hairstyle as Chiaki's. He has black eyes and a thin mustache. He also has a pale skin tone and usually wears the teacher's uniform for their school.
Personality
Edit
He is a piano teacher also known as the "harisen teacher", because he always carries one during his class which uses to punish his students for their mistakes. He also has this personality of being rude and insulting to his students.
He was Chiaki's teacher at the start of the story, but after Chiaki blew up at him for scoffing at his dream of being a conductor, Etoh threw Chiaki out of his class. This was one of the first setbacks Chiaki faced in the series, as Etoh was known in the school for tutoring only elite students. One day he heard Nodame practicing and decided to become her teacher, going so far as to forcibly transfer Nodame to his class. The relationship does not start well, as his overbearing attitude and use of physical rebukes (he would smack his students with his paper fan) reminds Nodame of her piano tutor when she was young, and causes her to run away from him. He eventually gives up his harisen in order to convince Nodame to take lessons from him. Nodame, in order to attend an upcoming competition, stayed at Etoh and his wife's place for training. He is not above tricking Nodame, using her love of Purigorota cartoon characters and free lunches, to convince her to perform or listen his advice. In contrast to Etoh's severity, his wife Kaori (かおり) is a light-hearted and loving woman who often takes care of the students who study with Etoh. He was one of the first few to note Nodame's talent and train her, and notes that even past her superb technique and musical talent, she has an innate ability to move people through her music. He was a major factor in Nodame's advance in music, and when Nodame was in a slump due to her loss at her first competition (she lost due to a lack of time to memorize all the necessary songs), submitted an application to an overseas musical college for her. After Nodame became famous, one of the first things she did when she returned to Japan was to give Etoh and Tanioka a private recital, presumably in appreciation of their help.