Ryutaro Mine (峰 龍太郎 Mine Ryūtarō) is a 4th year violin student at Momogaoka.
Ryutaro Mine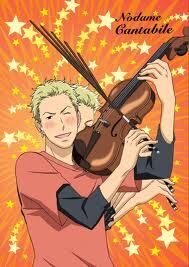 English
Ryutaro Mine (only)
Occupation
Violinist; Former Concert Master
Father
Mr. Ryutaro (owner of Uraken Shop)
Spouse/Partner
Kiyora Miki (girl friend)
Appearance
[
]
He has a yellow green hair and black eyes. He has a fair skin tone and usually wears casual clothes of sort.
Personality
[
]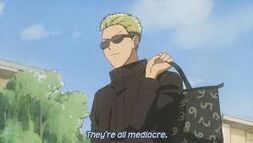 He is something of a primadonna whose violin technique is seen by himself to be deeply personal but by others to be simply sloppy. He sees Chiaki as a rival for attention and tries hard to compete with his "Princely" image of him. He likes Nodame for her free-spirited ways. He is the concertmaster of the S Orchestra conducted by Chiaki, and a violinist in the R☆S Orchestra. He is also the one who thought that performing like
Jimi Hendrix , and adding a touch of 'rock' would give quality despite that it looks dumb in an original orchestra (as stated by Chiaki). He has been dating Kiyora Miki.
Plot
[
]
Sorry, we are still ongoing with plot summaries. Visit here to help.