Yosshi (ヨッシー Yōshi) is Masumi's accompanist for the Graduation Exam.
Yosshi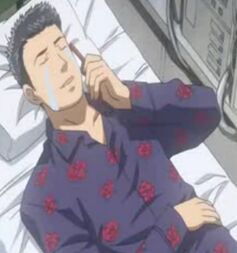 Kanji
ヨッシー (hiragana only available)
Appearance
Edit
He has black hair with unknown color of his eyes. He has a pale skin tone and is seen wearing some kind of indigo casual shirt designed with red roses alternately.
Personality
Edit
Nothing much is known about his personality. From Masumi's statement that no one can replace him, he can be said as a kind and a great pianist and partner of Masumi.
Masumi calls Yosshi because he's worried about him for being late in the Graduation Exam. Yosshi answers the phone and quoted that he can't attend Masumi as piano accompanist because he has appendicitis. He is also carried by an ambulance to a hospital for treatment.